Tutti i prezzi si intendono in EUR incl. IVA; Spedizione in
Italia;
senza
Spe­se di spe­di­zio­ne.
Gomme da Trekking ripiegabili
Gomme da Trekking ripiegabili
Nel
catalogo Gomme da Trekking ripiegabili
trovi 20 diversi Gomme da Trekking ripiegabili ad prezzi imbattibili!
45NRTH
Continental
Schwalbe
Specialized
WTB
A proposito di Gomme da Trekking ripiegabili
Trekking tire foldable
Whether it's a slick tire (slick means "smooth" tires without a tread pattern) made for a quick ride through town, or a tire particularly for globetrotters who explore everything, from asphalt roads to forests. Here you'll find tires you might be familiar with as their names are from the MTB field or it could be an acclaimed street tire. Yes indeed, the trekking tire segment consists of a variety of tires. There are touring tires, tires for your cross bicycle, trekking, in the city and so on... foldable tires for trekking bikes with a typical 700 circumference (622) for 28" bicycle wheels or smaller ones with a 559 circumference for 26 inches - We can offer you those from 17" to 28"! Of course you'll also find studded folding tires for your trekking bike if you plan to use it during the winter months.

The fact still remains, though, that the usual themes of all tire classes are present here too. It could be rubber reinforced sidewalls, an extra protective inlay or a low rolling resistance... Each manufacturer scores through their own strengths, whether they go by the name of Schwalbe Marathon, Continental TopContact or CrossRide Tires. The various tread patterns leave nothing to be desired as there are tires for all outdoor substrates!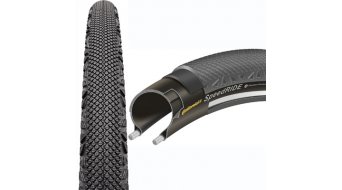 Lastly, the advantages of the foldable tire should be pointed out once again: Not only does it score through its easy assembly, but especially because the tire casing can be taken along as spare tire without a problem Due it is small size when folded, it fits into the backpack, saddle bag or even in your shirt pocket, which you can't do with a clincher tire! It's an argument that can't be played down. Discover our range of foldable trekking bike tires. We offer the top brands Schwalbe, Michelin, Continental, Maxxis as well as Specialized tires.